"In every crisis, there is opportunity. Competitive behaviour during a crisis is important to monitor. What are your competitors doing? Post-crisis, organisations need to research what are the new opportunities"
As a crisis unfolds the ability to monitor and understand what is going on is important. Post-crisis, it is important to have all the research done to understand new opportunities.
The Crisis Management Centre can assist your organisation put in place measures that will reduce the damage and develop strategies to come out the other side of the crisis stronger as an individual and as an organisation.  If your organisation is going through or is possibly about to go into a crisis, the Crisis Management Centre can assist.
Within the sphere of Crisis Monitoring and Research, the Crisis Management Centre can assist you and your team with a wide range of services including:
Crisis Monitoring and Research Strategy Development
Business Intelligence and Gap Analysis
Open Source Intelligence
Monitoring of Official Government Communications

Speeches and Statements
Parliamentary Sessions
Online Announcements (Websites and Social Media Platforms)

Media and Social Media Monitoring
Data-Driven Research

Social Media Analysis
Industry Analysis
Sentiment Analysis
Community Issues Analysis
Impact Analysis

Post-Crisis Assessment and Recovery
Contact the Crisis Management Centre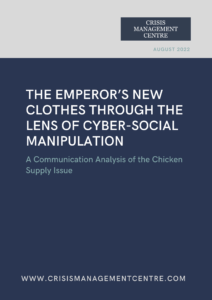 Crisis Management Centre has identified the existence of coordinated inauthentic behaviour (CIB) and brute force communications in the social media discourse on the chicken supply issue in Malaysia and selected Southeast Asian countries between 1 January and 21 July 2022. The latest Crisis Management Centre report titled 'The Emperor's New Clothes Through the Lens of Cyber-Social Manipulation – A Communication Analysis of the Chicken Supply Issue' shed light on the depth and breadth of the evolution of social media manipulation.
Contact us to get the full copy of the report.