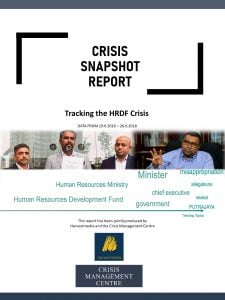 The Crisis Management Centre together with Harvestmedia have created the "Crisis Snapshot Report" which will use the latest data analytical tools to tack various crises that are effecting business and politics in Malaysia.
The first report title "Tracking the HRDF Crisis" looks at how recent developments following the last election have created a crisis for individuals and the organisation. One interesting area which is not in the report but we will share here is that this LinkedIn was key in breaking the story especially to the business community.
Should any of the media wish to use the data insights or analysis in your reporting please do so with due credit given to the "Crisis Snapshot Report" jointly produced by Harvestmedia and the Crisis Management Centre. For more information or to commission a report please contact us.
The above report has been generated with publicly available data (we don't want to end up like Mark Zuckerberg wasting time at public hearings).
I hope you enjoy the report, be sure to comment. Our next report coming out is on the Aviation Industry in Malaysia which is a fast developing story but you will have to wait till Monday for that one.
#Data #insights #Bigdata #Crisis #Crisismanagement #CrisisManagementCentre #Harvestmedia #news #HRDF #Malaysia #Reforms
CLICK TO DOWNLOAD