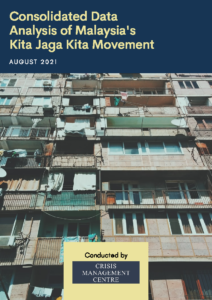 The Kita Jaga Kita movement, embodied with the hashtag #kitajagakita, represents a community-driven social campaign – the result of collective sentiments derived from individuals and local businesses losing their main source of income due to the COVID-19 pandemic.
In late June 2021, the "White Flag Movement" emerged on social media in Malaysia as a direct response to the concerns of the community directly impacted by the economic fallout of the pandemic. As a further response and as a community effort, several websites and apps were developed to allow people within the community who were under lockdown to share information about the critical needs of individuals and families.
This report has taken a snapshot of the publicly available data from the three main community-developed platforms namely crowdsourcing websites kitajaga.co and Sambal SOS, and the MyBendera application in the first two weeks of August 2021.
The Crisis Management Centre has not been commissioned by any individual or organisation to conduct this research. The
analysis and research insights are to be freely used by all stakeholders in the private and public sectors to better improve decision-making and crisis response to the current situation faced. Two data snapshots and case studies are presented: the broader Klang Valley, and a focused study of Titiwangsa and its surrounding areas.