"In the next few minutes, you will have to decide on how to handle the crisis that you are facing. Are you going to rely only on your team or are you going to get advice from those who deal with crises on a daily basis?"
Crisis Management requires a wide range of skills and backgrounds. Each crisis is different and each will have a lasting impact on the individuals and the organisation as a whole.  The first question will be how to come out of this crisis and the second question is how to come out of this crisis stronger than when we went in.
The Crisis Management Centre can assist your organisation put in place measures that will reduce the damage and develop strategies to come out the other side of the crisis stronger as an individual and as an organisation.  If your organisation is going through or is possibly about to go into a crisis, the Crisis Management Centre can assist.
Within the sphere of Crisis Management, the Crisis Management Centre can assist you and your team with a wide range of services including:
Crisis Management Strategy Development
Gap Analysis and Threat Identification
Open Source Intelligence
Crisis Communications Support and Media Engagement
Stakeholder Engagement (Community and Internal)
Government Relations (Political and Regulators)
Post-Crisis Assessment and Recovery
Process Assessment, Policy and SOP Development (ESG and ICS)
Desktop Crisis Simulation Drills
Live Crisis Simulation Drills
Contact the Crisis Management Centre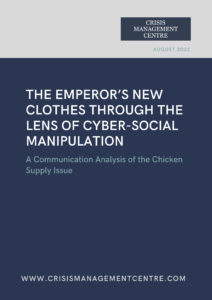 Crisis Management Centre has identified the existence of coordinated inauthentic behaviour (CIB) and brute force communications in the social media discourse on the chicken supply issue in Malaysia and selected Southeast Asian countries between 1 January and 21 July 2022. The latest Crisis Management Centre report titled 'The Emperor's New Clothes Through the Lens of Cyber-Social Manipulation – A Communication Analysis of the Chicken Supply Issue' shed light on the depth and breadth of the evolution of social media manipulation.
The research utilised advanced artificial intelligence (AI) coupled with an extensive benchmarking exercise. Conducted over six and a half months, it revealed that over 7,000 potential disingenuous accounts were deployed in social media discussions related to the Malaysian poultry industry. The number comprised identified bots and trolls on various social media platforms.
Contact us to get the full copy of the report.