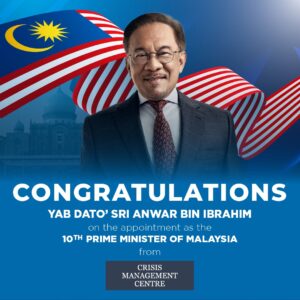 The Crisis Management Centre would like to extend our heartiest congratulations to YAB Dato' Seri Anwar Ibrahim on his appointment as Malaysia's 10th Prime Minister, and to the Malaysian people who have chosen to continue to chart a sustainable future.
The Crisis Management Centre is tracking all the political developments and known policy positions, and how they will impact business operations, supply chains and investments.
We live in an age of crisis. A crisis can hit at any time and because of the power of modern digital media, it can be a national or international story within minutes. You and your organisation need to be prepared and able to act quickly and correctly. Leaders the world over have challenges with crisis management. In many cases, failure to do so properly costs them dearly.
Crisis Management Centre has been established to empower individuals, corporations, industry associations and governments to deal with all aspects of crisis management effectively. We take a positive approach that is both data-driven and stakeholder friendly to ensure leaders have a positive impact on a crisis.
Has your team had a chance to address the gaps in your business continuity planning? We can assist. 
We provide a wide range of services from strategy development, gap analysis, pre-crisis training and threat management to mid-crisis management including the all-important crisis communications and stakeholder engagement. Post-crisis management strategies have become increasingly important as it allows the public and those affected to put in context what happened and to start on the path of developing a positive future. We are ready to manage your crisis.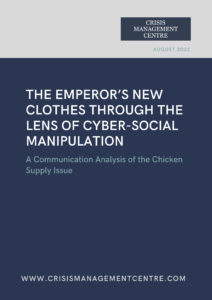 Crisis Management Centre has identified the existence of coordinated inauthentic behaviour (CIB) and brute force communications in the social media discourse on the chicken supply issue in Malaysia and selected Southeast Asian countries between 1 January and 21 July 2022. The latest Crisis Management Centre report titled 'The Emperor's New Clothes Through the Lens of Cyber-Social Manipulation – A Communication Analysis of the Chicken Supply Issue' shed light on the depth and breadth of the evolution of social media manipulation.
The research utilised advanced artificial intelligence (AI) coupled with an extensive benchmarking exercise. Conducted over six and a half months, it revealed that over 7,000 potential disingenuous accounts were deployed in social media discussions related to the Malaysian poultry industry. The number comprised of identified bots and trolls on various social media platforms. Contact us to get a full copy of the report.