"One of the leading threats to an organisation is weak data security and cyber security. Leaks of information that become public often become a crisis"
What damage can be done to an individual or to a company's business continuity if key information is leaked by internal people or external criminals?  Organisations need to fully understand the threats to data security and put in place the cyber security measures that will ensure the business continues as normal.
The Crisis Management Centre can assist your organisation put in place measures that will significantly reduce these risks.  If your data has been breached the Crisis Management Centre can assist with the fallout that will happen once the public becomes aware.
Within the sphere of Cyber and Data Security, the Crisis Management Centre can assist you and your team with a wide range of services including:
Cyber Resilience Strategy Development
Data Security Framework Development
Gap and Potential Crisis Analysis
Crisis Communications Support and Media Engagement
Stakeholder Engagement (Community and Internal)
Government Relations (Political and Regulators)
Post-Cyber Incident Assessment and Recovery
Process Assessment, Policy and SOP Development
Desktop Cyber-Physical Crisis Simulation Drills
Open Source Intelligence
Cyber-Social Manipulation Training and Workshops

Cyber Resilience Workshop
Data Resilience and Consumer Protection
Brute Force Communications and Impact on Political Dynamic
Contact the Crisis Management Centre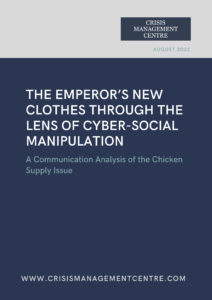 Crisis Management Centre has identified the existence of coordinated inauthentic behaviour (CIB) and brute force communications in the social media discourse on the chicken supply issue in Malaysia and selected Southeast Asian countries between 1 January and 21 July 2022. The latest Crisis Management Centre report titled 'The Emperor's New Clothes Through the Lens of Cyber-Social Manipulation – A Communication Analysis of the Chicken Supply Issue' shed light on the depth and breadth of the evolution of social media manipulation.
The research utilised advanced artificial intelligence (AI) coupled with an extensive benchmarking exercise. Conducted over six and a half months, it revealed that over 7,000 potential disingenuous accounts were deployed in social media discussions related to the Malaysian poultry industry. The number comprised identified bots and trolls on various social media platforms.
Contact us to get the full copy of the report.