"Learning organisations know that training is the key to developing the right capacity for human capital, but have you developed enough capacity to manage a crisis?"
The Crisis Management Centre was established by Glenreagh Sdn. Bhd. to assist governments, organisations and individuals better manage crisis. The establishment of the centre was a natural step after being involved in numerous crises and natural disasters in Malaysia and the broader Asian region.
There is always a need to upskill staff and management through training and engagement. Your team needs to have the capacity to deal with a problem before it becomes a crisis.
The Crisis Management Centre can assist your organisation put in place measures that will reduce the damage and develop strategies to come out the other side of the crisis stronger as an individual and as an organisation.  If your organisation is going through or is possibly about to go into a crisis, the Crisis Management Centre can assist.
Within the sphere of Pre-Crisis Capacity and Training, the Crisis Management Centre can assist you and your team with a wide range of services including:
Capacity Assessment and Training Strategy Development
Resilience Planning
Human Capital Upskilling
Crisis Management Training
Crisis Communications Training
Stakeholder Engagement Workshops
Government Relations Workshops
Crisis Response Investor Communications Training
Data-Driven Social Media Response Training
Post-Crisis Assessment and Recovery
Process Assessment and SOP Development
Cyber-Social Manipulation Training and Workshops

Cyber Resilience Workshop
Data Resilience and Consumer Protection
Brute Force Communications and Impact on Political Dynamic
Desktop Cyber-Physical Crisis Simulation Drills

Desktop Crisis Simulation Drills
Live Crisis Simulation Drills
*Customised training modules and workshops can be developed upon request.
Contact the Crisis Management Centre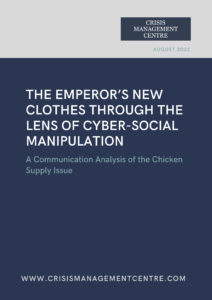 Crisis Management Centre has identified the existence of coordinated inauthentic behaviour (CIB) and brute force communications in the social media discourse on the chicken supply issue in Malaysia and selected Southeast Asian countries between 1 January and 21 July 2022. The latest Crisis Management Centre report titled 'The Emperor's New Clothes Through the Lens of Cyber-Social Manipulation – A Communication Analysis of the Chicken Supply Issue' shed light on the depth and breadth of the evolution of social media manipulation.
Contact us to get the full copy of the report.